IS THERE ANY WAY FOR AN UNLICENSED CONTRACTOR
TO SUE FOR THE MONEY OWED FOR SERVICES PERFORMED?
I once represented a homeowner against a contractor that was trying to be paid several times what was set forth in the agreement. The case was very sad because, as is so often the case, the plaintiff was tripped up by his own greed. Here is how it came about.
Our client found a niche business that made him a multi-millionaire in very short order. With his new-found wealth he bought a large parcel of land in a neighborhood near the ocean where he had always dreamed of living. By a chance meeting he ran into a buddy from high school who had coincidentally just passed his test for a general contractor's license. The two got to talking and came up with an agreement that would benefit both. The contractor wanted to build homes on spec, but had absolutely no portfolio to show off his talents. Our client wanted someone he could trust, and wouldn't mind saving some money on the custom home he was going to build on his property.
They agreed that the contractor would be paid a flat fee to oversee the project. He would charge a slightly reduced rate from what an experienced contractor would charge, but in exchange our client would provide him reasonable access to the home for the first two years after it was completed so that the contractor could bring by prospective clients to see his masterpiece. It was an incredible win-win for the contractor, because he was being afforded the opportunity to build a huge, high-end model home to use as his calling card, all while being paid close t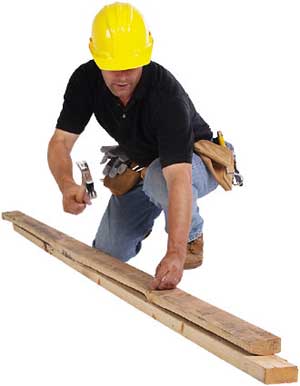 o the prevailing rate despite his lack of experience.
As is often he case, while the construction was proceeding our client the homeowner would come up with changes he wanted to make. In every case, these changes just made the home even grander, so the contractor was thrilled since it made his showpiece just that much more, well, showier. In fact, the changes increased the square footage of the planned home by more than 50 percent. Remember, the costs were of no import to the contractor since he had not bid the job. He was receiving a flat fee just for overseeing the project. At no time did the contractor ever complain about the changes. Quite to the contrary, he suggested several changes himself, including enlarging the foyer to over 1000 square feet. He wanted the home to take away the breath of any clients he brought to view it.
The completed house was amazing. It had some problems attributable to the inexperience of the contractor, not the least of which were leaking windows, but our client was so impressed with the looks of the home that he was going to let the problems slide and bring in a crew at his own expense to fix all the problems. He was just thrilled that this dream home was really his.
The contractor had a different reaction. He too could not believe the impressiveness of the home, but he reacted by demanding more money. It "just wasn't fair", as he put it, that our client should end up with such a palace for the discounted rate the contractor had agreed to accept. As is sadly all too often the case, he had no problem finding an attorney with no scruples to represent him in attempting to rewrite the contract. Even sadder, the attorney was not content to use some sort of cost per square foot calculation to determine what the contractor should recover for the extra square footage. Although that would still be an outrage since the parties had agreed to a flat fee, at least it would make some logical sense if the attorney was going to make a fairness argument. No, the attorney claimed that the proper calculation could only be derived by determining the fair market value of the home and making his client the contractor a partner in the spec home. (Don't try to make sense if it; your head will hurt.) Our client was so outraged that he was no longer content to make the repairs himself, and insisted on a cross-complaint for the costs of all the repair work that needed to be done.
Now to the point of this long narrative. After receiving the complaint, we checked on the status of the contractor's license. As it turned out, he was a little too anxious to enter into the great contract he was now seeking to rewrite. His license was still in the works when he entered into contract, and did not become "official" until a few weeks into the project. We had him. We got the court to take judicial notice of the license date, and the complaint was thrown out, leaving only our cross-complaint that would have never been filed but for the ill-conceived complaint. Far worse, the contractor was now entitled to nothing, let alone the extra money he was trying to extort.
The machinations of opposing counsel in trying to save the action (and avoid a malpractice claim) were a microcosm of what attorneys have done in the past to avoid the "no license no money" law. He claimed that his client should recover under the theory of quantum meruit. The doctrine of quantum meruit simply holds that when someone performs services for someone else with that person's knowledge, they should receive the fair value of their services even without a contract. That approach actually worked for a short time in California until the courts ruled that this is an impermissible end run around the law. Then attorneys, and our opposing counsel, tried to play with what is meant by "licensed." They argued "substantial compliance," claiming that so long as the contractor was licensed for some period of the project, he should at least recover for that period of time.
The law is clear, and was made even clearer in 2005 by the California Supreme Court decision in MW Erectors, Inc. v. Niederhauser Ornamental. The court ruled that Business & Professions Code section 7031 means just what it says, namely that a contractor may not maintain any action, legal or equitable, to recover compensation for "the performance of any act or contract" unless he or she was duly licensed "at all times during the performance of that act or contract." Unlicensed contractors cannot sue to get paid. End of discussion.
OK, maybe a little more discussion. There is one tiny, narrow, small opening that could permit an unlicensed contractor to recover money owed. In 2003, the Legislature amended subdivision (e) of section 7031 to provide that one may establish substantial compliance, despite being unlicensed at some time during performance, if he or she (1) "had been duly licensed . . . prior to . . . performance . . . , (2) acted reasonably and in good faith to maintain proper licensure, (3) did not know or reasonably should not have known that he or she was not duly licensed when performance of the act or contract commenced, and (4) acted promptly and in good faith to reinstate his or her license upon learning it was invalid." A very small window indeed.
This exception did not apply to our case since the contractor had not been licensed prior to performance. Our client could have walked away paying nothing, but he was a class act. He voluntarily agreed to pay the contractor the agreed price, after deducting a portion of the repair costs. However, because of the contractor's bad faith, he was not permitted to use the house as a model home as he had intended.
______________________________
Aaron Morris is a partner with Morris & Stone, LLP. Morris & Stone is located in Santa Ana, Orange County, California. We can be reached at (714) 954-0700, or info@toplawfirm.com. The practice areas of Morris & Stone include employment law (wrongful termination, sexual harassment, wage/overtime claims), business litigation (breach of contract, trade secret, partnership dissolution, unfair business practices, etc.), real estate and construction disputes, first amendment law, Internet law, discrimination claims, defamation suits, and legal malpractice.